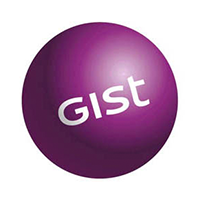 Gist Ltd
Programmes Offered:
Apprenticeship - Intermediate Level (Level 2)
Apprenticeship - Advanced Level (Level 3)
Apprenticeship - Higher Level (Level 4/5)
Connect with Gist Ltd
100 %
of reviewers recommend this company
About Gist Ltd
At Gist, we pride ourselves in transforming supply chains, with a proven track record spanning 50 years. Our vision is to be our customers' first choice for logistics, innovation, excellence and partnership.
Gist's unique proposition lies in our expertise in transforming large-scale end-to-end supply chains for our food retailer customers – from farm to factory, production to distribution centre and delivery to supermarket, convenience store or restaurant.
Gist has a national network of strategically placed sites and the largest temperature controlled transport fleet in the UK. This winning combination enables Gist's customers to reduce their environmental impact and deliver the best possible experience to their customers, every day, 7 days a week, 365 days a year.
Our reach extends globally. Through our control tower capability, Gist solves problems for customers in the increasingly complex and demanding world of global supply chains- moving chilled, perishable, ambient and hazardous products by air, sea and land.
Our customers include Starbucks, EAT, Marks and Spencer, Tesco, Morrisons and 2 Sisters Food Group.
Latest Reviews from Gist Ltd
Transport Team Manager

Transport Team Manager One to one management with drivers Volume planning Tacho management Red light procedure Fuel management DVM...

Junior Global Freight Planner

My job title is junior global freight planner. My daily tasks include receiving and placing new bookings for shipments, updating trackers for internal and customer use, assisting on other markets where possible. Everyday I have an informal catch-up with my line manager and discuss any issues tha...

Warehouse Team Manager

My job role is warehouse team manager which main tasks are supervising picking, intake and outload. Other daily interactions are generally report based including reporting performance in areas such as hours used in tasks and accuracy. Projects are then based off the back of these reports in the aim ...