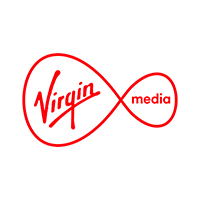 Virgin Media
Programmes Offered:
Apprenticeship - Intermediate Level (Level 2)
Apprenticeship - Advanced Level (Level 3)
Apprenticeship - Higher Level (Level 4/5)
Locations:
Central London & City
East of England
East Midlands
Greater London
North East
North West
Northern Ireland
Republic of Ireland
Scotland
South East
South West
Wales
West Midlands
Yorkshire & The Humber
Industry:
Business
Engineering
IT & Telecommunications
Connect with Virgin Media
95 %
of reviewers recommend this company
About Virgin Media
Whether it's TV, mobile, home phone or our super-fast broadband services, we're constantly switching people on to new possibilities. At Virgin Media we're hell bent on making our customers' lives easier, brighter and a bit more fun!
Our business might have first burst into life in 2007, but our history is the history of phone, TV and internet in the UK. Why? Simple. Because we're its future. Our culture is led by ideas and pioneers, challenge and creativity, and diversity and opportunity – it's about always looking forward and the truth is we're just getting warmed up.
Our network may be the biggest in the UK and Europe, unrivalled for its power and speed. But we're not resting. We're investing. In the network and our people. We plan to invest an additional £40 million over the next three years to refurbish key sites and acquire new alternative sites for our people.
Right now, our combination of voice, broadband and video products, combined with TiVo, sets the standard in homes across the nation. The future is all about going beyond the home, and beyond the norm. We're going to explode the possibilities – giving people the communication, entertainment and connectivity they want, whenever and wherever they want it.
Virgin Media is a place where good things happen, and we give our people the power to make them happen.
We've got a very different way of looking at the world, and it shows in what we're like as a place to work. It's not a nine-to-five, clock in and tune out sort of place. And there's no corporate mask to put on at the door – you can just be yourself. So, you'll be joining a bunch of people who are free-spirited, capable of coming up with their own ideas, and given free rein to put their talents to best use.
As part of our varied graduate and intern schemes, we're committed to helping talented people move onwards and upwards through our business. All of our schemes are designed to give you the knowledge, skills, experience and exposure you need to progress and develop a rewarding Virgin Media career.
When you're part of the Virgin Media family you can trust us to do the right thing by you. So we go all-out to be a great place to work – and we offer some pretty impressive benefits too. Join us, and in return, you'll get brilliant training and loads of mentoring to help you blaze a trail through our business. We promise you'll have more than a little fun along the way!
Latest Reviews from Virgin Media
Claim Handler

Claims Handler, Emails, investigations, FNOL, Calls, Meetings, Ensure A-Z case handling, Review each file accordingly and take relevant steps and issue legal proceedings if necessary....

Business Engineer Apprentice

I am a Business Engineer Apprentice. My daily tasks involve finding and fixing faults and prepare and fitting installs. I am always meeting new people, whether they are employees or customers, so ther...

technician

My course consists of doing a number of jobs a day and then have a study day every other Wednesday for coursework....